Blog
Articles and Company News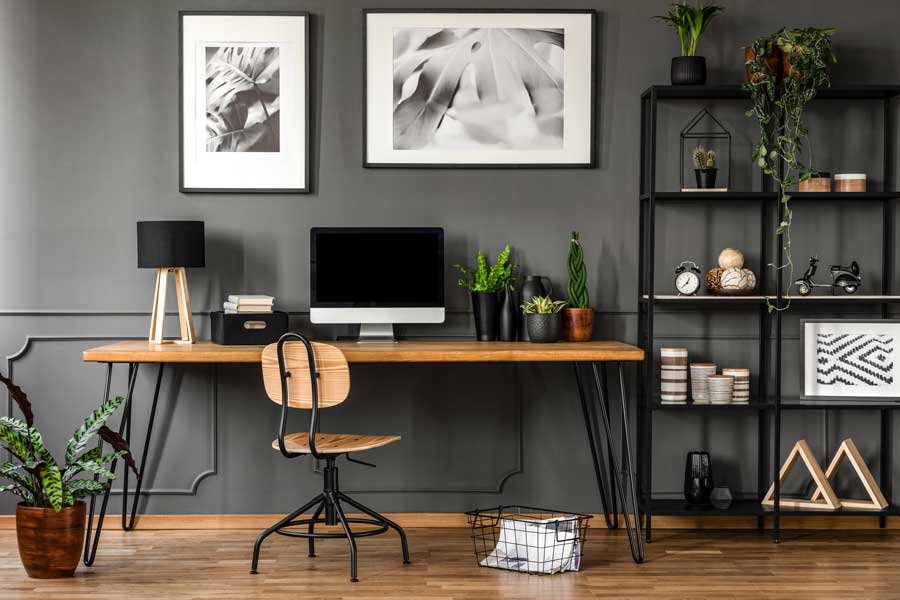 Throughout this past year, many people have had to lean heavily on their home office spaces. Lots of companies have given people the flexibility to work from home and continue to do so as a permanent working model. As home offices become more permanent, it is important that you make it a space you enjoy being in. One that does not drain you and helps you to do your job better. The color that you choose to paint your walls can have a large impact on the way you feel when you are in a room. Here are some examples of how different colors can affect you so that you can choose one that will help you the most.
Blue
If your job is particularly demanding, you might need your office to offset that in some way. Light, airy blue hues may be a great color choice for you if minimizing stress is your main goal. Watery blues help a room feel serene, peaceful, and light. Which can help bring you to a calmer place when you feel the pressures of your job.
Gray
Gray is a great complimenting color. It is neutral, so it does not clash with other decor and does not busy your field of vision. Gray is a nice contender if being able to focus is a main priority for you during the workday.
Green
If you are working from home, odds are you are working from a computer. When we are focused on a task, we might not even realize how long we have been staring at our computer screen. This can leave you feeling drained, and your eyes may feel strained by the end of the day. Green is known to be a refreshing color. So, coating your walls in gentle shades of green can provide a nice backdrop for you to refocus your eyes on during the day.
Red
Many know red to be a power color. It evokes passion and action. If your job demands alertness for conference calls, a red accent wall may be just what you need. Too much red may cause you to feel irritable, but a well-chosen pop of red color can instill just enough excitement to get you through the day.
At the end of the day, it is all about making your office space work for you. Creating flexible and functional homes with style is something that we love to do here at Justice Homes. We build with quality materials and timeless floor plans so that you can create a dream home that lasts for years to come. Browse our available listings today!
By Justice Homes 6-16-2021