Blog
Articles and Company News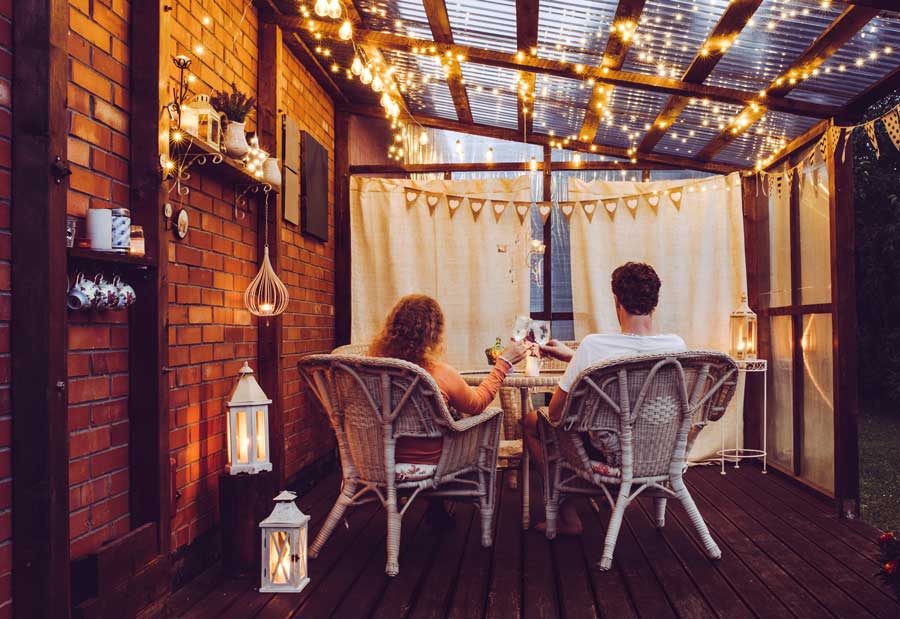 At Justice Homes, we want you to enjoy every inch of your home, from the front door to the back porch. If you want to create an outdoor living space suitable for forging cherished memories, it doesn't cost a fortune to do so. Here are some ideas on how to upgrade your outdoor space without breaking the bank.
Serene Screens
The last thing you want when you are enjoying time outside is the prying eyes of neighbors or the incessant buzzing of bugs. You can kill two birds with one stone by hanging a privacy screen. You can have one installed or you can easily hang one yourself. Use a simple shower tension rod that will fade into the background and simply drape the material of your choosing to achieve the desired effect. Linen or lace curtains flutter beautifully in the breeze, or a canvas drop cloth works well to shield you from excessive heat during the hottest parts of the day.
Tropical Influences
Are tropical beaches calling your name? Bring the islands to your home by transforming your outdoor space into a tropical oasis with just a little bit of spray paint. You can transform some patio furniture you already have or source a steal from a garage sale, and then give it new life with a coat of spray paint. Burnt oranges, vibrant blues, and cheery yellows all lend to the tropical vibe. Speckle some terracotta pots and flowers around the space and you'll feel like you're in Tulum in no time.
Lovely Luminaries
Create ambiance and light pathways at the same time with aesthetically pleasing lights. String lights have had a strong hold on this department for some time, but there's a good reason for that. They are cheap, versatile, and fit into almost any style. Even if you do not have large trees to wrap these little lights around, you can switch it up by winding them around planters, patio umbrellas, and deck balconies.
As you can see, you do not have to spend a fortune trying to upgrade your outdoor living space. Try out some of these suggestions and you'll be surprised by how much of an impact they can make!
By Justice Homes 4-19-2022